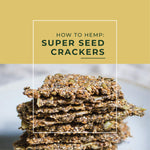 Snacking just got a lot more wholesome! Munch on these crunchy homemade crackers packed with the goodness of protein and fiber!
Recipe:
½ cup chia seeds
½ cup health horizons raw hemp seeds
½ cup raw pumpkin seeds
½ cup raw white sesame seeds
½ teaspoon garlic powder
½ teaspoon onion powder
¼ teaspoon fine grain sea salt
1 tablespoon dried rosemary
1 tablespoon maple syrup (optional)
1 cup water
Instructions:
Preheat the oven to 325°F and line a large baking sheet with parchment paper. In a medium bowl, combine all the dry ingredients together until fully incorporated. Then add water & maple syrup, and mix well, Let the mixture sit for a minute and then stir again. Spread the mixture onto the prepared baking sheet with a spatula and bake for 30 minutes. Remove from the oven, slice into crackers using a pizza wheel. Flip the crackers over and back for another 25-30 minutes until crispy. Allow to cool completely and store in in a container in the refrigerator. Time for healthy snacking!