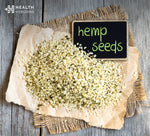 People use hemp seeds and oils to produce a variety of food products including hemp milk, hemp oil, hemp cheese substitutes, and hemp-based protein powder. Hemp seeds are a nutrient-dense foodstuff with a variety of uses. People often use hemp seeds as part of savory and sweet dishes for their mild, nutty flavor.
 Nutritional breakdown of hemp –
According to the U.S. Department of Agriculture National Nutrient Database Trusted Source, a 3 tbsp serving of hemp seeds weighing 30 g contains:
166 calories
48 g of protein
6 g of fat
6 g of carbohydrates
2 g of fiber
21 mg of calcium
38 mg of iron
210 mg of magnesium
495 mg of phosphorus
360 mg of potassium
97 mg of zinc
33 micrograms (mcg) of folate
Vitamins C, B, A, and E
Include hemp in your favorite items, here are 3 ways to do so...
Cacao and Hemp Protein Balls
Level – Easy
Ingredients
1/2 cup hemp flour
2 tbs hemp protein
1/4 cup nut butter
2 tbs maple syrup
1/4 cup cacao powder
2 tbs coconut oil
To Decorate
1 tbs chia seeds
1 tbs hemp seeds
1 tbs desiccated coconut
1 tbs cacao powder
Method
Place all the protein ball ingredients in a food processor and process until smooth and combined.
Combine the decorating ingredients in a separate small bowl.
Roll the protein ball mixture into tablespoon-sized balls and then roll in decorating mixture and coat well.
Place on a baking paper-lined tray and refrigerate for at least 30 minutes before serving.
 Savoury Hemp Popcorn
Level – Easy
 Ingredients
1 tbs hemp oil/ Ghee
1 tbs hemp butter
1 garlic clove crushed
1 tsp hemp sauce
1/2 tsp herb salt
1 pinch of cayenne pepper
225 g popcorn kernels
 Method
Heat the butter in a pan. Place one piece of corn in the fat and wait to pop. Now place the remaining corn in the pan and cover. Shake until popping has stopped. Transfer to a large bowl.
Mix hemp oil, Hemp sauce, garlic, herb salt, and cayenne pepper in a small bowl.
Drizzle over popcorn and toss to coat. Serve immediately.
Strawberry, Coconut & Lime Smoothie
Level - Easy
Ingredients
1 cup canned light coconut milk
½ cup raw cashews soaked for 2-4 hours, rinsed, and drained
1 cup chopped fresh strawberries
1 frozen banana cut into 1-inch pieces
4 Medjool dates pitted and roughly chopped
1 ½ cups ice
½ teaspoon lime zest
1 teaspoon hemp hearts
Method
Combine all of the ingredients in your blender in the order listed above.
Blend until smooth, stopping to scrape the sides of the blender if necessary.
Pour into two glasses and top each with ½ teaspoon of hemp hearts.