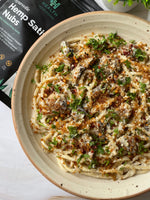 Ingredients:

1 tbsp. oil
7-8 cloves of garlic, roughly chopped
1/2 cup of finely chopped onions
1/2 cup pasta water
2.5 cups of blanched cauliflower
1/2 cup of Health Horizons Hemp Sativa Nubs
1/2 cup water
Salt, to taste
1 tbsp. red chili flakes
1/2 cup mushrooms, sautéed in soy sauce
300gms of raw spaghetti, boiled
Pizza spice, to taste
Juice from 1 lemon
2 tsps. of pizza spice mix
Sriracha sauce (recommend)
Crunchy onion bits & nubs for garnish

Method:

- In a pan, add in oil and sauté the roughly chopped garlic cloves till golden and aromatic. Add in the finely chopped onions and sauté till translucent.
- Add in the onion garlic mix into a blender and top off with pasta water, blanched cauliflower, Health Horizons Hemp Sativa Nubs, water, salt & chili flakes. Blend well!
- In a pan, sauté mushrooms with some soy sauce till cooked through and toss in your boiled spaghetti.
- Add in the sauce and mix well. Top off with lemon juice, pizza spice mix and sriracha sauce. Toss.
- Top off with crunchy onion bits and hemp nubs and serve hot!