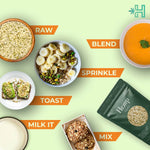 Hemp hearts aka shelled hemp seeds are these little nutrient-dense super seeds. They are these disc-shaped seeds packed with a mild flavour and nutrition. It has a slightly nutty flavour to it but what makes them unique is the creamy texture they have. They are versatile because they are as easy to blend into something as they are to sprinkle on top of something.
Nutritionally speaking, they are said to be one of the most perfect foods. Just 3 tablespoons of hemp seeds have 10 grams of complete protein and 300 mg of omega-3 fatty acids. They are these fatty acids that we continuously keep hearing about and want to be working in our diet. They help to support brain and heart health, lower triglycerides, reduce inflammation and help support the immune system. Hemp seeds are also rich in magnesium, zinc, and phosphorus while being high in fibre and low in carbohydrates. They are great for vegans, vegetarians and really for anybody who wants to eat a clean and delicious diet.
All the reasons why one may want to work this nutritious little super seed into your diet. Lots of people like to sprinkle them on top of their oatmeal, on top of their cereal or their yoghurt. They are delicious when sprinkled over a salad; used as breading for chicken or fish, or blended into a smoothie or some homemade hemp milk.
There are tons of different ways to use them. Here are 3 easy ways to work them into your meals.
Hemp Berry Smoothie
It is a family favourite. It's a great way to start the day off with some healthy fats and lots of anti-oxidants and some plant-based proteins plus it could not be any easier.
Ingredients –

1 cup of frozen berries (can use any type of berries)

½ frozen banana
1 cup of coconut milk (can use any type of milk, even hemp milk! Find the recipe below)
3 Tablespoons of Hemp seeds
Instructions – 
Pull out your blender and add all the ingredients into the blender.

Pop on the lid and blend that up, until you have a beautiful, rich, creamy smoothie.

Your smoothie is ready
Homemade Hemp Milk
It's just like making homemade almond milk, but so much easier because you don't have to soak the hemp seeds nor do you have to strain the milk.
Ingredients –

½ cup of hemp seeds along with

3 cups of cold filtered water
Pinch of sea salt
1 seedless date
1 teaspoon of vanilla extract
Instructions – 
Blend for 30 to 60 seconds until it's pulverised.

Pour in a glass or a cereal bowl, you can also strain it if you prefer a smoother finish.
Chocolate chip Coconut Hemp Bites
Ingredients -
1 cup rolled oats
½ cup of Almond butter
¼ cup of hemp seeds
3 tablespoons of maple syrup/honey
3 tablespoons of chocolate chips
3 tablespoons of unsweetened coconut flakes
Instructions – 
Add all the ingredients to a mixing bowl

Gently mix using a spatula until all the ingredients are incorporated and it looks like a nice dough. 

Take a lump and shape that into a small ball and repeat. 

Take those balls and roll them in a bowl of hemp seeds.

Lay them on parchment paper and keep them in the fridge for about an hour. 

Store them in an air-tight container.

Enjoy your chocolate chips and coconut hemp bites!