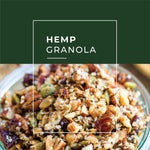 A scrumptious power snack with the nutritional punch of hemp seeds? Just how we like our granola bars! Check out the recipe below.
Recipe:
¾ cup raw almonds
1 cup raw walnuts
½ cup raw pecans
½ cup raw pumpkin seeds
1 cup unsweetened coconut (flakes)
1 cup health horizons hemp hearts (or hemp seeds)
Pinch of sea salt
2 tablespoon chia seeds
1 teaspoon cinnamon
⅓ cup melted coconut oil
1 teaspoon vanilla extract
¼ cup maple syrup
½ cup pitted and chopped dates
Instructions:
Preheat the oven to 250°F. Place almonds, walnuts, pecans, pumpkin seeds in a food processor and pulse until you get some chunky pieces. Transfer the mixture into a large bowl and add all the remaining ingredients
except the dates and stir well. Spread an even layer of the mixture onto a large baking sheet. Bake for 35 minutes. Remove from the oven, add the dates and give the mix a good stir. Then bake for another 25-30 minutes until the granola is golden brown in color. Remove from the oven
and let it cool. Enjoy the delicious granola bars and store any leftovers in a mason jar in the fridge!