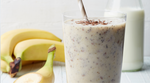 Preparation Time: 10 min
Cook Time: 30 min
Ingredients: 
1 cup hemp seeds

4 cups water

½ tsp vanilla

1 tsp maple syrup
Instructions: 
Process hemp seeds and water in a blender for 20 minutes.

Add a pinch of salt, along with vanilla extract and maple syrup to the mixture and blend again for 30-40 seconds.

Strain the mixture using cheesecloth into a container.

Refrigerate for up to 3 days.

Enjoy the delicious homemade hemp seed milk.