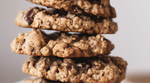 Preparation Time: 10 min
Cook Time: 20 min
Ingredients: 
¾ cup almond milk

¾ cup coconut oil

¼ cup cocoa powder

1 and ½ cup coconut sugar

½ cup cashew butter

2 cups rolled oats

1 cup hemp seeds

2 tsp vanilla
Instructions: 
Take almond milk, coconut oil, coconut sugar, and cocoa powder in pan, and heat over a medium flame. 
Stir occasionally and heat till coconut sugar is fully dissolved.
Add vanilla, oats, cashew butter and hemp seeds to the mixture. 
Mix well to form cookie dough.
Take small amounts of the dough to make the perfect sized cookies.
Refrigerate for 2 to 3 hours.