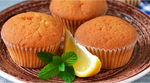 Preparation Time: 10 min.
Cook Time: 20 min.
Ingredients:
2 cups of whole wheat flour.
1 teaspoon baking powder.
1 teaspoon of sea salt.
1 cup of sugar.
1 cup of almond milk.
1/4 cup olive oil.
1 tablespoon vanilla.
3 tablespoon freshly squeezed lemon juice.
3 teaspoon

 

hemp seeds.
Instructions:
Preheat oven to 350 degrees.
Mix hemp seeds, wheat flour, baking powder, sugar, olive oil, vanilla and lemon juice together.
Blend them well to create a batter.
Place about ¼ of batter into each liner of the preheated oven.
Bake it for 20 minutes and then hot lemon hemp seed muffins are ready.