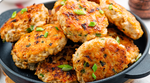 Preparation Time: 20min.
Cooking Time: 10min.
Ingredients:
1 pack firm tofu, cut into 1-inch slices.
1/4 teaspoon dry mustard.
2 tablespoons

 

dehulled hemp seeds.
2 cloves garlic, pressed.
1/4 cup liquid soy.
2 tablespoon olive oil or any heat stable cooking oil.
2 teaspoons minced ginger.
4 cups of your choice of mixed vegetables such as collard greens, Swiss chard, broccoli, bell peppers, mushrooms, green beans.
Directions:
Create a marinade by mixing garlic, mustard and liquid soy.
Marinade hemp seeds and tofu for no less than one hour.
Sprinkle hemp seeds in a shallow dish and press onto each side of the tofu slices.
Heat 1 tablespoon olive oil in a skillet on medium-high heat.
Add the tofu and sauté both sides until browned.
Set aside in a warming dish on a low-temperature oven.
Heat 1 tablespoon olive oil, and add to the same well-heated skillet and start serving.