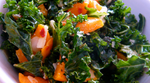 Preparation Time: 10 min
Ingredients:
2 bunches kale, washed and de-stemmed.
3/4 cup

 

hemp seeds.
1/2 cup nutritional yeast.
1/4 cup onion.
2 cloves garlic.
4-6 Medjool dates.
1 1-inch piece of ginger root.
1 tablespoon no-salt seasoning.
1 cup of coconut vinegar.
1 teaspoon turmeric.
2-3 tablespoons of water.
Preparation:
Take kale leaves in a large bowl. Make a dressing by processing hemp seeds with all other ingredients in a high-speed blender.
Add water if necessary, to blend. Taste for flavour and add additional dates if needed.
Pour hemp dressing over the kale leaves and use some clean, kitchen scissors to chop the leaves.
Use a large serving spoon to stir the dressing into the leaves.
Marinate until soaked properly.
Before serving, stir in chopped scallions.