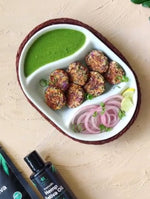 Ingredients:
1/4 cup Potato, boiled and mashed
1/4 cup Purple cabbage, shredded
1/4 cup Cooked Quinoa
1/4 cup Carrot, grated
1/4 cup Paneer, crumbled
1/4 cup Hemp Nubs
1 tbsp Ginger, Garlic and Chilies, chopped
2 tbsp Coriander, chopped
1/4 cup Spring onion, chopped
Salt and pepper to taste
1 tsp Hemp Sativa Oil
Method:
1. Mix all ingredients except hemp sativa oil in a bowl.
2. Shape into tikkis.
3. In a pan, heat hemp sativa oil.
4. Place the tikkis on the pan on medium heat and cook till it turns golden brown on both sides.
5. Serve hot with green chutney and salad on the side.
Note: If you are going to be making the tikkis later, after mixing all ingredients from step 1, saute the mixture on a pan for 5 minutes to remove excess moisture and once it cools down, shape into tikkis.