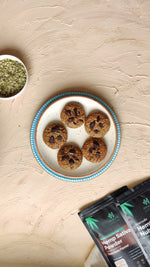 Ingredients:
1/2 cup Oats flour
1/4 cup Rolled oats
2 tbsp Hemp Powder
1/4 cup Hemp nubs
1/4 tsp Baking powder
1/2 cup Peanut butter
2 tbsp Honey
1/4 cup Brown sugar
1 tbsp Milk
Chocolate chips
Method:
1. Mix oats flour, rolled oats, hemp powder, hemp nubs and baking powder. Keep aside.
2. In another bowl, whisk together peanut butter, honey and brown sugar.
3. Add the dry ingredients in batches and mix well. Add in milk to bring the dough together.
4. Shape and flatten the cookie dough.
5. Bake in a preheated oven at 180 C for 17-20 minutes.