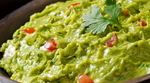 Preparation Time: 5 mins.
Cook Time: 5 mins.
Total Time: 10 mins.
Ingredients:
1 cup hulled

 

hemp seeds.
2 garlic cloves.
4 tablespoon lemon juice about 1 lemon.
3 tablespoon unflavoured almond or soy milk.
3 tablespoon chopped fresh dill.
1/2 teaspoon salt.
Instructions:
Place

 

hemp seeds

 

in the food processor. Blend to a thick paste, stopping to scrape down the bowl as needed. Blending may take a few minutes.
Add garlic and lemon juice to the processor. Blend until the seeds form into a thick, glossy mass.
Add milk, dill and salt to the hemp, garlic mass.
Blend to a smooth, creamy cheese.
Serve luxurious vegan hemp cheese made from creamy blended hemp seeds and flavoured with zippy garlic and fresh dill.