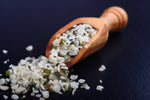 In today's time, hemp is not less than a blessing for the vegan people and the one who wants to gain multiple benefits. Detoxification, sharpened memory, enhancement of energy, and weight loss are some of its astonishing benefits. It also helps in alleviating stress or lowering inflammation. These hemp seeds are highly nutritious with a high concentration of soluble and insoluble fiber whereas omega -3 and omega -6 fatty acid works best for skin health and heart health. Most of the time people merged hemp with marijuana although both belong to one family. Even though both are very different as marijuana growth contains a high amount of tetrahydrocannabinol (THC), which is known for its psychoactive properties. In the case of hemp are edible plant seeds containing a trace amount of THC.
As per the National Nutrient database, the 2 tablespoon hemp seeds weighing 20 grams (g) contains –
22 micrograms (mcg) of folate
140 mg of magnesium
75 g of fat
59 mg of iron
330 mg of phosphorus
98 mg of zinc
14 milligrams (mg) of calcium
73 g of carbohydrates (includes 0.8 g of fiber and 0.3 g of sugar)
111 calories
31 g of protein
240 g of potassium
Hemp seeds have a rich source of vitamin C, some Vitamin B, and vitamin A and E


Amount of hemp should be taken in a day –
Adding 2-3 spoons of hemp empowers nutrition to your daily diet. You can either intake it raw or just dust it over your favorite breakfast or in any brunch. On the other hand, you can just blend them into smoothies or add on to your shake or pour them into milk. Apart from that, you can also add them to your rice, pulse, and vegetables including salads, fruit – bowls, khichdi, pasta, shakes, and juices.
The consumption of any herbal or natural supplement varies on several bases like a person's age, health condition, the motive behind consumption, and many more. Although, it has been always said that before taking hemp to consult a healthcare provider regarding recommended dosages. An excessive amount of consumption may damage the health internally. While eating hemp seeds it is suggested that in the initial days you should start taking hemp slowly such as 1 teaspoon gradually and then after as more you tolerate, by looking at those digestive problems.

Health Benefits –
Hemp is classified into a variety of Cannabis that contains 0.3 % or lower than THC content. These hemp seeds are the main part of this plant that is edible where its leaves can be used to make tea, whereas the seeds contain most of the plant's nutrients. In fact, hemp seeds consist of 30% fat, which includes all the essential fatty acids. The primary benefits come from hemp seeds.
Hemp can be claimed to treat a variety of health conditions –
Heart problems
Bloating
Cough
Urinary conditions (increasing urine flow)
Syphilis
Warts (when applied topically to the skin)
Pneumonia
Asthma
Arthritis