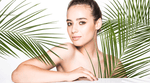 I crave for summer, the summer sun is beautiful, and it's the perfect atmosphere to do outdoor activities. Summertime is a great time to relax with friends and family by soaking up the sun at a beach or simply having dinner together. Yet, it is not easy for me to soak up the rays by forgetting the skin problems summer brings along with it. Summer is the peak time for all kinds of irritations, pricking, burns and discomforts to reign over my skin.
In spite of using chemical cosmetic products available in the market, I always land up with skin problems that arise due to the warm weather. None of it solved my summer skin issues, and I started restricting myself indoors; fearing rashes, itchy bumps, and swellings my skin has to endure.
This fear of mine finally went came to a halt, when I started using hemp-based skin care products. When I first heard about hemp and hemp-based products through my beauty conscious friend, I deliberated it as one among the many, so-called miracle products. As she kept on pushing me to use it; to overcome my summer skin problems, I researched it online. Though hemp had several beneficial qualities, I was not yet convinced that hemp will keep my skin unscathed after a long day out in summer.
I bought hemp-based skin care products online, from Health Horizons, one of the hemp products manufacturers in India, as per her suggestion. I started using it with a preconceived notion that nothing is going to change. Later, after using the products for a few days, I witnessed profound changes in my skin. The acne breakouts, prickly and itchy sensations started reducing. It made me both overjoyed and stupefied; I had found the solution for one of the major hitches of my summer. Now I can keep my love towards summer intact without damaging my skin.
Later, I researched furthermore on how hemp-based products have such an effective impact on your skin and it turns out that hemp is really a miracle plant. Now, as I have found a solution for my summer problems from my friend, I am about to pass on the goodwill. I am going to share some of my knowledge on how hemp skin care products aid your skin in summer, based on my research after using hemp products.
Vitamin E:
Vitamin E is a powerful antioxidant boost that protects from sun damage and encourages the healthy growth of new skin cells. Vitamin E in hemp oil is the reason for its amazing healing properties. It's what makes our hemp lotions and hemp balms so effective during summer.
Similar to body oils:
Skin oils create a protective barrier to block toxins, dirt and UV rays. Hemp oil is so similar to the natural oil our body produces. So hemp-based products restore similar natural oils that protect the skin during summer.
SPF:
Hemp products contain an adequate amount of SPF that protects from the sun for an extended period. It also provides nutrients needed for proper keratin formation.
Fatty Acids:
Hemp is one of the richest plant-based sources of Omega-3 and Omega-6, which means that products with hemp oil provide excellent hydration, nourishment and protection for your skin against the sun.
Hemp skin care products have a permanent seat on my dressing table when it comes to summertime skin care products. Hemp infused sunscreen can help to make sure you're staying safe and comfortable when the sun is beating down.