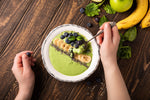 People of India have already started consuming hemp seeds in their diet. The intake hemp seeds as hemp hearts and as hemp nubs (which is shelled hemp seeds) from centuries for cooking purpose or to extract oil, or as a food product. Previously, people living in urban areas know the multiple nutritional benefits of hemp seeds. But these days everybody who is a fitness freak or the one who wants to lose weight consumes it through various forms. Either they take it in their morning breakfast or brunch or can sprinkle it into their meal.

How hemp seeds are counted in Superfood –
Hemp's prominence has markedly boosted and flourished as its multiple health benefits came to light. Hemp has been consumed for ages because of having all the highly essential nutrients required for the body. This seed is a perfect protein provider as it's also called a powerhouse of eight essential amino acids present in quantities which is enough to meet the body's requirements. Because of this, it is a good alternative protein source for vegan and vegetarians. Apart from this, it is exceptionally rich in two essential fatty acids namely, omega – 3 and omega -6. Hemp seeds also carry gamma-linolenic acid, which is also a nutrient, linked to several health benefits. It does not stop yet but also has a rich source of Vitamin E and minerals such as phosphorus and potassium. These hemp seeds can be consumed cooked, roasted, or raw. Even though its seeds oil is healthy for dietary intake.
Here, is the list of multiple nutrients with their benefits –
Help In Reducing Heart Disease – Heart disease is one of the major issues of current days. Almost all people are under this disease. But here hemp is claimed as the one which reduces heart disease. Because these seeds contain high amounts of amino acid arginine, which creates nitric oxide in the body.
Hemp Seeds Have Plant-Based Protein – Hemp seeds have 25% of calories which comes from relatively high protein. As hemp seeds provide the same amounts of protein as non-veg (beef, and lamb). There 2-3 tablespoons or 30 grams of hemp seeds contain 11 grams of protein. Hemp seeds are counted as a complete protein source where they claim to have all the essential amino acids. One body cannot produce essential amino acids therefore it must be gained from diet.
Hemp Seeds Promote Digestion – For better digestion, hemp seeds are the ultimate option. Fiber is an important part of a healthy diet which leads to better digestive health. Hemp seeds are a rich source of both soluble and insoluble fiber, having 20% and 80% respectively.
Hemp Seeds Benefit The Skin Disorder
– Immune system depends on the balance of omega -6 and omega – 3 fatty acids. Fatty acids may affect the immune in the body. Here, hemp seeds are a good source of polyunsaturated and essential fatty acids. It contains a 3:1 ratio of omega -3 and omega -6 which is considered in the optimal range. Oil of hemp seeds may relieve dry skin, improve itchiness, and lower the need for skin medication.