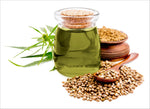 When it comes to nutrition, hemp is a multi-nutritional seed that claims to have the solution to many health issues. This hemp plant is one of the varieties of Cannabis sativa which is cultivated for its fiber. There are many shears of hemp that have none of the mental effects linked with cannabis. It is considered industrial hemp which has been used as a fiber source, for oil, and as an important source of nutrition for ages. Whenever it comes to nutrition, hemp seeds are appraised as the most important part of the plant. These hemp seeds can be consumed whole or without the hull. Its oil can be used in the same way as olive oil.
There are many health benefits we get from hemp seeds such as –
Fiber – In hemp seeds, much of the fiber is found in its outer shell or hull. Although, hemp seeds without shells are also a good source of fiber. In the 3 tablespoons, it consists of approximately 1.2 g of fiber.
Benefits of consuming fiber in day-to-day life:-
It helps in weight management.
Enhance the health of the gut.
It works to stabilize blood sugar levels.
Decrease the appetite.
Minerals and Vitamins – Hemp seeds are a great source of nutrition that erases almost all the major health issues. It has an outstanding array of minerals and vitamins which are especially rich in:
Phosphorous
Magnesium
Potassium
Vitamin E
It is also a rich source of Vitamins B, iron, and zinc including:
Thiamin
Niacin
Vitamin B-6
Riboflavin
Folate
Protein – In every 30 grams (g) of hemp seeds or about 3 tablespoons, there is 9.46 g of protein. These hemp seeds contain the same amount of protein as it found in soybean. It is an absolute source of all the protein, as it provides all the nine essential amino acids. Amino acids are considered the building blocks for all proteins. Normally, a body cannot produce nine of these acids. Therefore, a person needs to take a good diet to get this.
Lowers Inflammation – The amount of omega- 3s present in hemp seeds and omega – 3 to omega – 6 ratios can merge to help lowering inflammation. Including this, it is also a great source of gamma-linolenic acid (GLA), and a polyunsaturated fatty acid may also have anti-inflammatory effects.
Meanwhile reducing the inflammation controls the symptoms of chronic diseases such as –
Arthritis
Non – alcohol-related fatty liver disease.
Metabolic syndrome
Type 2 Diabetes


Promote Heart Health
– Consumption of hemp seeds in exact amount may promote good heart health. It is believed that omega – 3 fatty acids upgrade the health of the heart and decrease the risk of issues such as heart disease and arrhythmias. Other than consumption of hemp seeds lowering blood pressure, participating in various forms of exercise, and eating a healthy diet may help in decreasing the risk of heart failure. These hemp seeds too have high levels of arginine and an amino acid that turns into nitric oxide. Nitric oxide is important for vein dilation and artery, which helps to keep blood vessel walls soft and elastic.