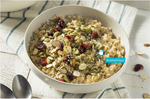 If an increase in temperature has your skin feeling greasier, then it's not your imagination. It turns out that in addition to being a source of your never-ending thirst, summer also makes your skin oily. There are many reasons why your skin is oilier in summer. But, in the end, it all means just one thing; your active sweat glands rev up your sebum (i.e. oil) glands, so when you produce more sweat, you also produce more oil.
Sweat being an inevitable thing in summer, you can't avoid oily skin and you have to deal with it. Oily skin is annoying, especially when your shiny forehead takes centre stage in your selfie. Your normal skin care routine is not going to help you during the warm weather. So, like you prefer a vacation in summer for a break, you have to give a break to your regular skin routine in summer. Here are a few tips on how to get rid of oily skin in summer?
Blotting Sheet:
The greasiness is always high on your face as it gets more exposed to the heat of the summer directly. The T-zone of your face gives you away to the world; the shine in the T-zone of your face at times puts the best varnish to shame. Using blotting sheets will give you a way out of this problem. These blotting sheets absorb excess oil quickly and maintain a healthy balance between too oily and too dry skin. So, carrying blotting sheets with you is one of the best skin care routine for oily skin in summer.
Wear Sun Screen:
A healthy dose of sunblock helps control oil and shine. During summer you need a sunscreen that not just protects against UV rays, but also mattify, and prevent oil slick on your skin. Make sure the sunscreen you choose must have an SPF of 50 to protect your skin from the scorching heat every time you get out of your house.
Wash Your Face with Cool Water:
The best aid you can do to your skin during summer is letting it cool off. Washing your face with cold water is the ideal way to start. Coldwater provides adequate dryness for your skin, removing sweat and oil. Doing it too much might have a reverse effect of making your skin too dry, and your skin tends to produce excess oil to compensate the dryness. Washing your face twice a day with cold water would be the perfect skin care routine during summer.
Consume the Right Food:
If you have oily skin, it is better that you avoid alcohol, spicy and fried foods during summer. These foods help to produce an excess amount of oil. A diet including grapes, liquids, cucumber, and foods with Omega-3 fatty acids would do the trick during summer. Hemp seeds are a good addition to your diet, as they contain a high amount of Omega-3 fatty acids in them.
Face Scrubs for Exfoliation:
A normal face scrub will not be enough during sweaty days. Face scrubs with a fair amount of banana/hemp/walnut and other such ingredients will be helpful during summer. These are great exfoliators which helps slough off excess sebum on your skin surface.
Hemp and Walnut face scrub is the perfect scrub for the summer. Hemp contains Omega-3 fatty acids that help to balance out oily skin while walnut hydrates the skin and regulates its oil production. Hemp and Walnut face scrub can be purchased from Health Horizons and using these scrubs in the morning will help you get rid of oily skin.
When it comes to oily skin, never choose any drastic methods as it can have consequences on your skin. Always try to take small baby steps by cutting down on fast foods, washing your face regularly and using skin products that suit your oily skin. Skin products made from hemp with activated charcoal suitable for your oily skin are available too.
This summer is prepared to tackle your oily skin with the tips above and suggest what you did to get rid of oily skin this summer.