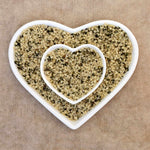 In an ever-changing world, the use of Hemp has remained a conflictual zone. Hemp still faces a negative notion because of its relationship with psychoactive cannabis and the war on drugs. Hemp is often understood in relation to marijuana—another strain of the same species. The hemp plant is a variety of Cannabis sativa that has been cultivated for its fibre, not any psychoactive effects. Many strains of hemp have none of the mental effects associated with cannabis. This type of industrial hemp has been used as a fibre source, for oil, and as an important source of nutrition for thousands of years.
Hemp is called nature's superfood; it includes all muscle-building Amino Acids such as Branched-Chain Amino Acids (BCAA). Hemp seeds are packed with antioxidants like fibre, which helps the digestive system and boosts daily energy.  Fibre is an essential part of your diet and is linked to better digestive health. Whole hemp seeds are a good source of both soluble and insoluble fibre, containing 20% and 80%, respectively. Hemp seeds aid in digestion and are gut-friendly. A normal serving of three tablespoons of hulled hemp seeds has over 14 grams of healthy fats, 165 calories, and almost 10 grams of protein. These seeds are also rich in minerals like potassium, phosphorus, and magnesium. Hemp seeds also offer great restorative properties that can alleviate joint pain, arthritis, and general aches. It also contains components that work with the body's cell receptors to help reduce pain.
Hemp protein is one of the best natural sources of plant protein available—completely free from dairy and lactose, vegan-friendly, gluten-free, no chemicals, soy-free, keto diet friendly, free of preservatives, no cholesterol, meets daily protein requirements in the body, suitable for everyone and a great addition to any healthy diet making it tasty. The protein has a slightly nutty/earthy taste which tastes great when added to baked treats and smoothies. Protein from hemp seeds is more digestible than meat, whole eggs, cheese, human milk, cow's milk or any other high-protein food. Hemp has edestin and albumin, considered "high-quality storage proteins". They house a significant amount of all nutritious Essential Amino Acids. Slowing the digestion process, hemp keeps the body feeling fuller, hence acts as a weight loss supplement as well.
Hemp seeds include over 30 per cent fat, particularly rich in alpha-linolenic acid (omega-3) and linoleic acid (omega-6). These oils are often used in cosmetics because they can penetrate through layers of skin to promote cell growth. Hemp provides the skin with the optimum balance of Omega 3 and 6 essential fatty acids plus GLA, Vitamin E and Behenic Acid which is deeply hydrating and helps skin maintain an even colour. The presence of Omega 3 and Omega 6 helps control many internal health processes. Ranging from increasing cell growth, regulating the immune system, and eliminating symptoms of skin disorders to keep the body healthy.
Hemp seed oil is a natural antioxidant that helps fight hair damage. This seed oil is rich in a great number of vitamins such as Vitamin E, Vitamin D, Vitamin B1 and Vitamin B2, and Essential Fatty Acids. It contains the fatty acids and proteins that protect your hair from harm by strengthening and moisturizing the scalp so that it doesn't flake. With the combination of oils, a healthy scalp clears up any dandruff. This replenishes your scalp and strengthens your roots naturally. 
Overall, the versatile hemp loaded with Essential Vitamins and Minerals has benefits and qualities that can improve your lifestyle, besides improving your health and diet. This list of hemp benefits is not limited to any one sphere of life but covers most major areas, making it one of the best ayurvedic herbs available.

Useful Links