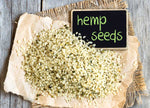 Storage of seeds and grains is essential to avoid any damage due to moisture, bacteria or fungus. The breeding time for bacteria and fungus is especially high due to the moisture level in the monsoon season. Raw and even cooked food tend to get spoilt easily in this season. This causes an irreversible wastage of food, especially in India due to its humid and tropical nature. If you have purchased hemp products from Health Horizons or any other platform, you might want to check these hacks to keep your product intact.
Raw hemp can have a moisture content of between 7-8%. May it be raw hemp seeds, hemp hearts, hemp protein powder, or flavoured hemp snacks. The moisture levels in these products can increase exponentially when stored incorrectly. They can also start losing their vigour and viability apart from getting infested. But this can be prevented, look into these ways to save your hemp.
Keep it airtight
The safest way to store hemp seeds or any other seed would be to keep it in an airtight container. You can keep it in a glass, plastic or metal container just make sure they don't leave any space for air to enter in or out
Refrigerate it
Once in an airtight container, refrigerate the hemp products for longer shelf life. The ideal temperature to store hemp products would be 15℃ or below. This method will guarantee a shelf life of at least 12 months.

Clean your refrigerator frequently
Even though your hemp is stored in an airtight container, its surrounding environment has to be clean, maintain cleanliness in your refrigerators to avoid any bacterial infestations, mould or fungal attacks.


Use a dry spoon
Any time you use a spoon to scoop out protein powder or hemp hearts make sure your spoon is dry and moistureless each time you use it. Even the slightest moisture on the spoon can cause bacterial problems spoiling your hemp products.

Since all our hemp products are plant-based, organic and with zero added preservatives their natural shelf life is lesser than other artificially preserved products. So we need to take extra precautions while storing, using and reusing such natural products.