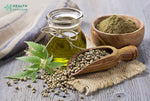 About Hemp Oil
Hemp seeds are the fruit of the hemp plant. They consist of about 25–30% oil.
Hemp is a variety of the Cannabis sativa plant. It does not contain as much delta-9-tetrahydrocannabinol (THC) as other varieties. People sometimes refer to hemp as "industrial hemp" because this is its primary use.
The use of hemp seed oil for skin and hair care is not new, but its popularity has increased in recent years.
Hempseed oil is often referred to as "hemp oil," and it's harvested by cold-pressing hemp seeds. Hemp oil is often unrefined. It's a clear green oil and can have a nutty flavor. Hemp oil has numerous health benefits, including those that improve skin health and hair quality. 
How does hemp oil benefit your skin?
 1.Moderates oil production
Hemp oil is perfect for most skin types as it can moisturize without clogging the pores. It can even help to balance out oily skin, hydrating it, and regulating the skin's oil production. Dryness can also cause the skin to overproduce oil, which in turn, can stimulate acne. Hemp oil can prevent dry skin and help reduce acne that's caused by excess oil.
 2.Moisturizes and soothes inflammation
One of the omega-6 fatty acids that hemp oil contains is gamma-linolenic acid (GLA), which acts as a powerful anti-inflammatory while simultaneously encouraging skin growth and new cell generation. This helps to calm inflammation and irritation on the skin, including acne and some conditions like psoriasis, while keeping the skin nourished and moisturized.
 3.Has anti-aging properties
In addition to moisturizing and soothing the skin, hemp oil has anti-aging properties. Hemp oil can help reduce fine lines and wrinkles as well as prevent signs of aging.
The linoleic acid and oleic acids found in hemp oil can't be produced by the body but can play a crucial role in skin health and anti-aging.
How is hemp oil used?
1.Topical use of hemp oil
The first method is to apply hemp oil directly to your skin. This can work if you have immediate irritation or dry patches of skin that you want to soothe quickly. Before using the oil, try a patch test.
If you're using hemp oil to treat acne and want to apply it topically, apply the oil directly to clean skin and leave it on for one to two minutes before washing it away with warm water.
2.Hemp oil and essential oil mixture.
You can also combine hemp oil and other anti-inflammatory and soothing ingredients with a recipe like the following, which can be applied directly to the skin:
1/4 cup hemp oil
2 teaspoons coconut oil
4 to 5 drops of skin-boosting essential oil, like lavender or rosemary oil
3.Oral use of hemp oil
The second method is to ingest hemp oil, which can provide the same skin benefits and additional overall health benefits as using the oil topically. If you take hemp oil orally, there's less risk of any skin irritation or breakouts, although it may cause some temporary digestive upset. Talk to your doctor before taking hemp oil orally.
You can have 1 to 2 teaspoons daily — either all at one time or divided into two doses.
How does Hemp seed oil benefit your hair?
Hair absorbs hemp seed oil and the oil benefits the hair by:
promoting hair growth
moisturizing the hair
thickening the hair
preventing water loss to protect the hair
reviving damaged hair
adding shine
 Hemp seeds are rich in polyunsaturated omega-3 and omega-6 fatty acids, which are present in a perfect ratio. This may contribute to the many potential health benefits that people attribute to hemp and hemp seed oil.
Research suggests that hemp seed oil can help relieve pain in itchy skin conditions, such as atopic dermatitis.
Takeaway
Whether applied topically or ingested orally, hempseed oil offers numerous benefits for skin health and hair, and many people can take advantage of those benefits. Hemp oil is considered safe for most people to use, and it can help moisturize the skin from the inside out and nurture the scalp.