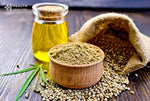 What Is CBD?
It's short for cannabidiol, and it's a natural compound found in both marijuana and hemp plants. There's evidence that it helps treat pain, seizures, and some other health problems.
Why use it?
What are Cannabinoids?
 Cannabinoids are naturally occurring compounds found in the leaves & flowers of a Cannabis plant which act on receptors in cells. There are 113 different cannabinoids found in the Cannabis plant. A full spectrum oil contains all 113 of them. The two primary cannabinoids are tetrahydrocannabinol and cannabidiol.
What is the Endocannabinoid System (ECS)?
The ECS is quite literally the bridge between the body and the mind and is the most important physiological system in the human body. It is responsible for regulating a broad range of biological and physiological processes such as pain-sensation, inflammation, mood, sleep, stress, appetite, digestion, metabolism, memory, etc.
However, the primary objective of the ECS is always the same, to maintain homeostasis in the mind and body.
How do Full Spectrum Cannabis Oils help?
Cannabinoid receptors are found throughout our mammalian body. These signal the ECS to take action. They reside on the surface of cells and assess the conditions outside of the cell. When conditions change, they transmit information from the outside of the cell to the inside of the cell, to signal that the ECS needs to take action. The ECS is comprised of two primary endocannabinoid receptors: CB1 (found predominantly in the brain, nervous system, and outlying organs and tissues), and CB2 (found predominantly in the immune and gastrointestinal systems).
 When an imbalance is detected, the ECS synthesizes cannabinoids that in turn prompt a chemical response, to return the physiological process back to homeostasis. Understanding the purpose of the ECS, which is to maintain homeostasis in the body, and acknowledging its role, you can perceive how cannabis-therapy works.
By stimulating and supporting our endocannabinoid system, it's entirely possible to find natural, plant-based relief from a multitude of conditions.
Why choose Elate Muscle Relief Oil by Health Horizon?
Elate Muscle Relief Oil relieves pain and reduces inflammation while reducing stress in the body. It gets thoroughly absorbed and is enriched with the goodness of cannabis leaf extract and hemp seed oil perfectly blended with coconut oil.
How to use it?
3-5 drops on the affected area twice a day and massage until absorbed or as prescribed by your physician.
What to use it for?
-        Use it for knee pain
-        Use it for shoulder pain
-        Use it for lower back pain
-        Use it for neuropathic pains
-        Use it for inflammation
-        Use it on the stomach for menstrual cramps
-        Use it for migraine