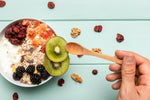 Fiber is one of the key parts of the diet that is being followed by day-to-day life. Meanwhile taking the exact amount of fiber in a day brings many health benefits whereas, if an excessive amount of fiber can be consumed in a day, then digestive problems can occur. High fiber foods generate a healthy weight loss diet and so, indulging the regular intake of fiber offers amazing results.

Amount of fiber recommended for a day –
Fiber is included in the carbohydrate component of plant-based foods which flows through the intestine because it is not digested or absorbed. The advised amount of daily intake fiber lies upon a person's age and sex.

From the current source, the following approximate of daily consumption has been listed as –
An adult man takes approx. 34 gm. which depends on their age.
An adult woman takes approx. 28 gm. that depends on their age.

The consumption amount of fiber can be adapted to the energy required at variant life stages. It has been said that children eat less compared to adults with the following lower and upper bounds showing males and females respectively –
Children aged 1 to 3 require 14 g
Children aged 4 to 8 require 16.8 – 19.6 g
Adolescents aged 9 to 13 require 22.4 – 25.2 g
Teenagers aged 14 to 18 require 25.2 – 30.8 g

Although, eating an excessive amount of fiber can cause constipation, gas, and bloating. Whereas the adverse effects might appear after consuming 70 g of fiber per day.

When the amount of fiber becomes uncontrolled
It is important to intake the fiber in the right amount during the initial days as if it's not been taken then it may create a lot of health trouble. The correct way to start the diet is slowly in case, you want to upgrade your dose of taking fiber because gradually the digestive will adjust and get used to it. Taking too much fiber or in a very short span of time is always prohibited.

Consumption of more than 70 g per day may lead to adverse effect which causes many health problems such as –
Deficiencies of nutrients especially in calcium zinc and magnesium because of fiber may restrict their absorption.
Bloating, cramping, and gas.
If fiber is consumed beyond the limit without taking enough fluid, then chances of a blocked intestine may occur.
Lowers in appetite.
Types of fiber you see in your day-to-day life:
The rich foods which consist of fiber have both soluble and insoluble fiber. Here, the healthful source of fiber includes –
Fruits like apples, prune, figs, and berries.
Seeds like chia, pumpkin, and ground flaxseeds.
Psyllium husk
Oats
Nuts like pecans, peanuts, almonds, and pistachios.
Pulses like peas, beans, and lentils.
Vegetables like cauliflower, broccoli, and sweet potatoes.
Whole wheat or granary bread.
Benefits of fiber –
Shorten the risk of type 2 diabetes
Shorten the risk of heart problems
Enhance the satiety or feeling fuller for longer
Decrease the risk of colon cancer
Shorten the low-density lipoprotein (LDL) levels which are known for poor cholesterol.
Enhance the digestive health
Enhance the glycemic index (GI) in individuals within diabetics.