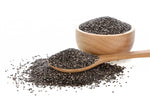 Chia seeds originate from the plant Salvia Hispanic, which is related to the mint. These tiny super seeds are a great source of minerals such as – calcium, iron, zinc, magnesium, manganese, copper, and niacin. Although, it also delivers healthy protein, fats, and cell-protecting antioxidants. Chia seeds supply insoluble fiber which bulks up a stool to intercept constipation. It is said that chia seeds have more omega -3 fatty acids which lower the risk of coronary artery disease and enhance cholesterol levels. Chia seeds can be consumed in many ways according to one's preference.

Chia seeds provide various health benefits in different forms –
Boost antioxidants – Chia seeds have so many health benefits which include antioxidants. These antioxidants look after the sensitive fats present in the seeds from going stale. It has been also researched and agreed that the best way of getting antioxidants is from food which causes positive health impacts. This antioxidant opposes the production of free radicals which can control cell molecules and protect from aging or even from cancer.
Increase rare source of omega -3 fatty acids – Omega – 3 fatty acids is another source that rarely increases because of chia seeds. Although these chia seeds containing omega -3 are not so beneficial because of ALA (alpha-linolenic acid). These seeds don't supply DHA which is essential for omega -3 fats, that's why it is counted as a lower–quality omega -3 source.
Carbs in chia seeds are almost fiber – Chia seeds consist of 40% fiber by weight which puts them into the list of best sources of fiber. 28 grams of chia seeds have 12 grams of carbs, however; 11 grams have fiber which a body doesn't digest. Digestible carbs content is one gram per ounce (28 gram) which is very low and thus it makes low carb friendly food. The tendency due to which chia seeds absorb up to 10 -12 times their weight in water because of its high soluble fiber content becomes gel expanding in the stomach. Fiber also treats the bacteria in the intestine which is necessary to keep gut flora well-fed important for health.
High-quality Protein supply – Chia seeds contain protein that has a good balance of necessary amino acids and this is how a body makes use of protein. Protein causes several health benefits like weight loss by dietary nutrients. These seeds are an excellent source of protein especially for vegan people or the people who eat less.
Lower the risk of heart disease – Chia seeds are rich in fiber, protein, and omega – 3s, which control heart disease. It covers several risky diseases such as triglycerides, insulin resistance, inflammation, and belly fat as well as good cholesterol. It has been said that these seeds significantly decrease blood pressure in the body with hypertension, which is a strong risk factor for heart disease. Eventually, these chia seeds may provide good heart health but at the same time, they won't affect majorly until accompanied by other healthy eating habits and dietary changes.