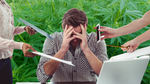 In recent years, stress has become a major health concern in India, with millions of people suffering from its debilitating effects. While several traditional remedies are available, an old player has reentered the market – Hemp. Hemp, a variety of the Cannabis Sativa plant, is known for its calming properties and has gained immense popularity in the wellness industry worldwide. Let's take a closer look at how hemp can help relieve stress.
Hemp and its Legality in India
Before we delve deeper into the benefits of hemp, let's first understand its legality in India. Hemp, like its cousin marijuana, is a Schedule I drug in India. The government has allowed the cultivation of hemp with less than 0.3% THC, the psychoactive compound that causes a high. This has paved the way for producing and selling hemp-derived products such as CBD oil, capsules, and others.
Hemp and Stress Relief
Let's explore how Hemp can help with stress relief. Stress is the body's natural response to challenging situations, and while it can be beneficial in short bursts, prolonged stress can lead to physical and mental health issues. Hemp contains cannabinoids, including CBD, that interact with the body's endocannabinoid system (ECS) to help regulate stress levels. Studies have shown that CBD can help reduce anxiety and stress in both humans and animals.
A study published in the Journal of Clinical Psychology found that CBD can help reduce anxiety in people with social anxiety disorder (SAD). In India, where stress is a common problem, the use of hemp-derived products could potentially help millions of people.
Hemp Products for Stress Relief 
There are several hemp-derived products available that can help with stress relief. CBD oil is the most popular product, which is made by extracting CBD from the hemp plant and mixing it with a carrier oil. It can be consumed orally or applied topically to help reduce stress and anxiety. Other products include capsules, edibles, and tinctures.
Health Horizon's Calm Blend for Stress Relief and Freedom made from Vijaya Leaf Extracts, can show promising results in reducing your stress levels.
According to a report by BDS Analytics, the CBD market in India is expected to reach $1.5 billion by 2023. With the increasing popularity of hemp-derived products, it is essential to ensure that you are buying from a trusted source.
Stress is a prevalent problem, and while there are several traditional remedies available, hemp-derived products have gained immense popularity worldwide for their stress-relieving properties. While more research is needed to fully understand the benefits of hemp, studies have shown that CBD can help reduce anxiety and stress levels.