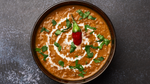 One sunny afternoon, I found myself in the mood for a warm and hearty meal. As I rummaged through my pantry and fridge, I realized that I also wanted to add some extra protein to my dish. It was then that I spotted a bag of hemp hearts that I had recently purchased.
I decided to experiment and add the hemp hearts to my dal recipe, hoping that it would create a delicious and nutritious dish. I began by soaking the red lentils and chopping up the onion and garlic. As I sautéed the onion and garlic and added the cumin, coriander, turmeric, and chili powder, the aroma of the spices filled my kitchen, and I couldn't wait to taste the final product.
After adding the chopped tomatoes and lentils, I let the mixture simmer for 20 minutes before finally adding the hemp hearts. I let everything cook for a few more minutes and stirred the pot, feeling confident that this was going to be a delicious and protein-packed meal.
As the dal cooked, I couldn't wait to taste the final product. Finally, it was ready. I ladled it into a bowl and garnished it with chopped cilantro and a lemon wedge. With my first bite, I savoured the rich and complex flavours of the spices, the creaminess of the lentils, and the nutty crunch of the hemp hearts.
I felt proud of myself for creating a new and nutritious dish, and I couldn't wait to share it with my friends and family. I knew that I would definitely be making this again on future afternoons when I was craving dal and needed some extra protein in my meal.
Ingredients:
1 cup of split red lentils
1 cup of hemp hearts
1 onion, finely chopped
2 cloves of garlic, minced
1 tsp of cumin seeds
1 tsp of coriander powder
1 tsp of turmeric powder
1 tsp of chili powder
2 tomatoes, chopped
2 cups of vegetable broth
Salt, to taste
Cilantro, chopped (for garnish)
Lemon wedges (for garnish)
Instructions:
Rinse the red lentils thoroughly and soak them in water for 30 minutes.
In a large pot, heat up some oil over medium heat.
Add the chopped onion and sauté until it turns translucent.
Add in the minced garlic, cumin seeds, coriander powder, turmeric powder, and chilli powder. Mix well and let it cook for 1-2 minutes.
Add the chopped tomatoes and cook until they soften.
Drain the soaked red lentils and add them to the pot.
Add the vegetable broth and stir everything together.
Bring the mixture to a boil, then reduce the heat to low and let it simmer for 20 minutes.
After 20 minutes, add in the hemp hearts and mix well.
Let the mixture cook for an additional 5-10 minutes until the lentils and hemp hearts are soft and fully cooked.
Add salt to taste.
Serve hot, garnished with chopped cilantro and a lemon wedge.
This dal recipe with hemp hearts is a great way to add some extra nutrition to a classic Indian dish. The hemp hearts provide a boost of protein, fiber, and healthy fats, while the lentils and spices create a delicious and warming meal. Enjoy!