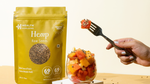 There has been a surge in the popularity of superfoods due to their remarkable health benefits. India, with its diverse agricultural landscape, offers an array of superfoods like hemp, chia seeds, flaxseeds, and peas, which have gained significant attention. We will compare hemp with other superfoods available in India, exploring their nutritional content, health benefits, and potential applications.
Nutritional Content:
Hemp:
Hemp seeds are a nutrition powerhouse, packed with essential nutrients. They contain all nine essential amino acids, making them a complete source of protein. Hemp seeds are rich in omega-3 and omega-6 fatty acids, which are beneficial for heart health. They are also a good source of fiber, vitamin E, magnesium, zinc and potassium.
Chia Seeds:
Chia seeds are renowned for their high omega-3 fatty acid content. They are also an excellent source of dietary fiber, protein, calcium, and antioxidants. Chia seeds provide essential vitamins and minerals like phosphorus, manganese, and zinc.
Flaxseeds:
Flaxseeds offer a multitude of health benefits. They are abundant in omega-3 fatty acids, dietary fiber, and lignans, which possess antioxidant properties. Flaxseeds are also a good source of vitamins and minerals, including thiamine, magnesium, and manganese.
Peas:
Peas are often overlooked as a superfood, but they are highly nutritious. They are a great source of plant-based protein, fiber, and essential vitamins like vitamin K and folate. Peas are also rich in minerals such as iron, potassium, and zinc.
Health Benefits:
Hemp:
Hemp seeds offer various health benefits. The balanced ratio of omega-3 to omega-6 fatty acids in hemp promotes cardiovascular health and reduces inflammation. The protein content in hemp aids in muscle repair and growth, making it a valuable addition to vegetarian and vegan diets. Hemp seeds are also rich in gamma-linolenic acid (GLA), which may help alleviate symptoms of certain skin conditions and hormonal imbalances.
Chia Seeds:
Chia seeds' high fiber content contributes to better digestion and helps regulate blood sugar levels. Their omega-3 fatty acids promote heart health, reduce inflammation, and support brain function. Chia seeds' ability to absorb water helps in creating a feeling of fullness, aiding in weight management.
Flaxseeds:
Flaxseeds are known for their potential role in reducing the risk of heart disease. The omega-3 fatty acids in flaxseeds have been linked to lower blood pressure and reduced cholesterol levels. The lignans present in flaxseeds may have anticancer properties and help balance hormone levels.
Peas:
Peas offer several health benefits, including improved digestion due to their high fiber content. The rich protein content promotes muscle development and helps in weight management. The vitamins and minerals in peas contribute to bone health, boost immunity, and support overall well-being.
Applications:
Hemp:
Hemp seeds have a versatile nature, allowing for various culinary applications. They can be consumed raw, roasted, or ground into a powder. Hemp seeds are used to make protein-rich hemp milk, added to smoothies, sprinkled on salads, or incorporated into baked goods like bread and muffins. Additionally, hemp oil extracted from the seeds is utilized in cooking and skincare products.
Chia Seeds:
Chia seeds are commonly consumed by soaking them in liquid, creating a gel-like consistency that can be added to beverages, yogurts, or desserts. They are also used as an egg substitute in vegan baking due to their binding properties. Chia seeds can be sprinkled on cereals, salads, and incorporated into granola bars or energy balls.
Flaxseeds:
Flaxseeds are often ground into a fine powder to enhance their digestibility and nutrient absorption. They can be added to smoothies, yogurt, oatmeal, or used as an egg substitute in baking. Flaxseed oil is also available and can be used as a salad dressing or added to dishes after cooking to preserve its nutritional benefits.
Peas:
Peas are highly versatile and can be incorporated into a wide range of dishes. They can be used in soups, stews, salads, stir-fries, and even blended into dips or spreads. Pea protein powder, derived from yellow peas, has gained popularity as a plant-based protein supplement.
When comparing hemp with other superfoods like chia seeds, flaxseeds, and peas, it becomes evident that Hemp offers unique nutritional benefits. Hemp seeds stand out as a complete protein source with a favorable omega-3 to omega-6 fatty acid ratio including high fiber content and essential nutrients.
Incorporating Hemp into a well-balanced diet can enhance overall nutrition and support various aspects of health.